Last Updated on October 25, 2023 by Ketan
When your kind gestures or nice personality get someone's attention, they may ask you "Why are you so cute?".
This comment could be from a guy or girl you met recently.
And, when they say it, believe it's more than just a common compliment like 'You're cute'.
You truly have amazed this person with your cuteness and politeness. 
If you like the way they say it, you want to return the favor by responding with something extra-nice. 
Here in this post, we're sharing the best replies to give when someone calls you 'cute' in person or online. 
Sweet Responses To "You're Cute"
You know this person appreciates you and often tries to make you smile. 
When they compliment you by calling you 'Cute', along with thanking them, acknowledge their praises with something sweet to say. 
This is how you respond meaningfully, and express your nice response to it.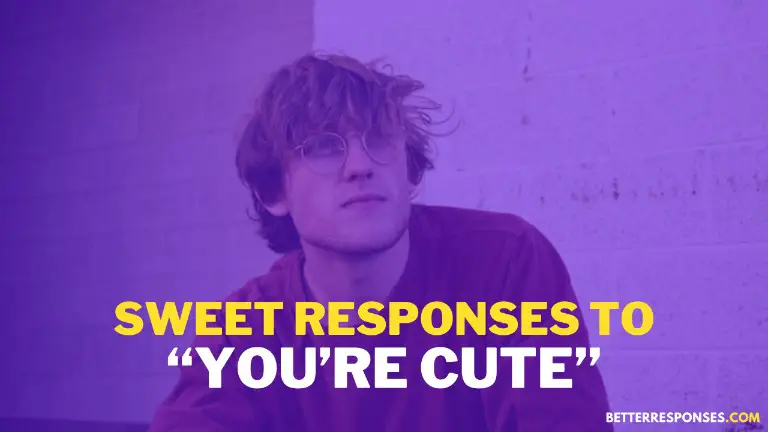 1. Cuteness in the eyes, you say as you see it. 
2. I don't know, I just do what I feel right at the time.
3. Thanks for making my day with your cute remarks.
4. And, I must say you're so amazing. 
5. Well, that's what I am. 
6. I think cuteness comes within. You could do it too.
7. And why are you asking this cute question? 
8. Thank you, I wish I could answer that.
9. I didn't do anything, it just came within. 
10. Because I have people like you to be cuter. 
11. I want to ask the same about you.
12. It's how you feel, so you can better tell me why I am cute.
13. Tell me what's going on? You never said this before.
14. Because you make me be like that. 
15. Let me suggest a course that teaches how to be cute. 
16. What's your point of being so nice, huh?
Flirty Replies To "Why Are You So Cute?"
When your crush calls you cute, the moment is already a special experience. 
Same, when your girlfriend or boyfriend can't resist asking you 'Why are you so cute?', choose to share flirty replies that sound more appreciative.   
Here are the flirty ways to respond when someone you like calls you 'cute'.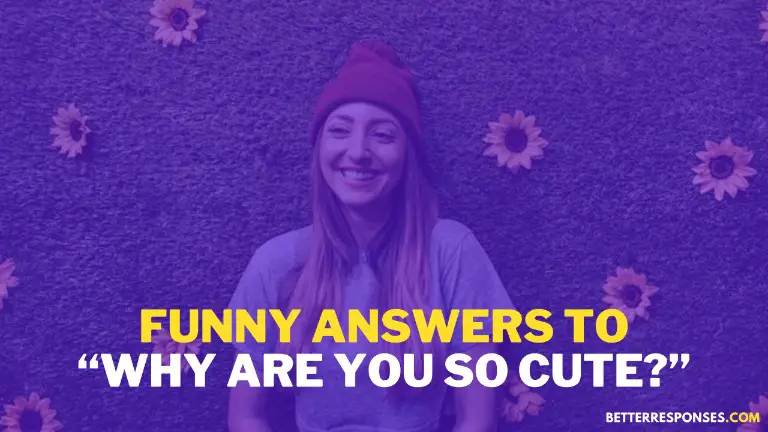 1. I might be cure-looking right now, but to me, you're always cute.
2. Let me ask you, Are you hitting on me? 
3. Around you, I just forget about everything and do something like this. 
4. Then why aren't you taking me on a date?
5. It's all your influence on me. 
6. Because I've been hanging out with you a lot lately. 
7. Sorry, I didn't mean to distract you from your work.
8. Awww, you're so sweet as you say that.
9. I'm actually inspired by your cuteness if you ask. 
10. I can't say anything specifically, but the answer is you.
11. I take it as a compliment but keep it a secret.
12. Cute enough to take me on a date? That means I'm just cute. 
13. So, that means I finally have your attention. 
14. Because I like you and you allow me to do cute things for you.
15. I've been cute the whole time, you noticed it today. 
16. Because I think you've fallen in love with me. 
17. For that, I invite you to my personal training session.
18. I don't want to sound arrogant, but I'm just built this way. 
READ NEXT: Better Responses To 'What's Cookin, Good Lookin?'
Witty Responses to "You're Cute"
Sometimes, someone you barely know online or strangers call you 'Cute' and that's surprising. 
Well, of course, that's still a compliment, but you reply like you're actually answering them. 
To make such comments correctly, here are clever ways to respond to them.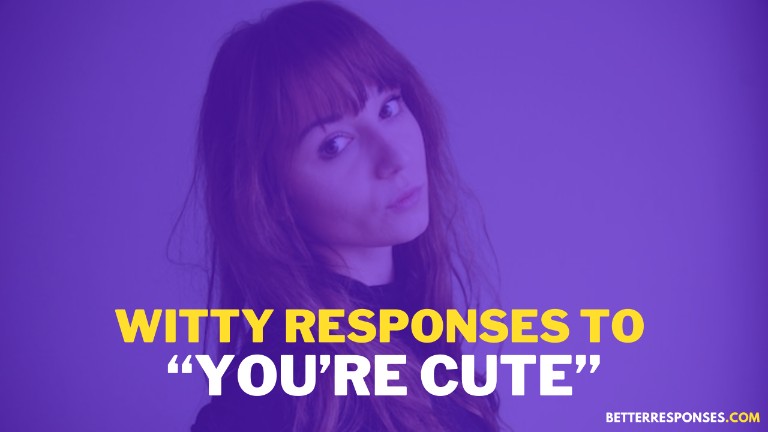 1. In which angle, I'm looking cute to you huh?
2. Don't judge me so quickly, you didn't even know me well. 
3. I don't think I'm cute, what makes you believe that? 
4. Why, you got no pick-up line but this. 
5. I rather consider myself as cruel than cute.
6. That's my personality and I don't have to do much about it. 
7. I'm happy that you found me cute, but I don't have any answer. 
8. Wow, Am I cute? This is the first time someone calls me cute. 
9. It's all because of chocolate cakes, I'm this cute. 
10. Thanks for your comments. I'm not going to share my secrets. 
11. Do you want to know? But, I'm not saying you anything. 
12. Because I be myself and never try to look or be like others. 
13. Let me clear this up, in which sense I'm looking cute. 
14. Are you serious, right now? Focus, we have an exam. 
15. That's a good try, I must say. 
16. Thank you for your remarks, but I don't have time for this. 
17. Because my parents are the cutest couple ever.
18. If you're looking for any tips to look cute, I don't have any.
19. Well, that's not the point to discuss here. 
Funny Answers To "Why Are You So Cute?"
Your friend who often makes fun of you or teases you, now calling you cute. 
Maybe their perspective of you has changed. 
But anyways, you're not going to take them seriously. 
So, you can choose to reply hilariously, when your friend says 'You're cute'.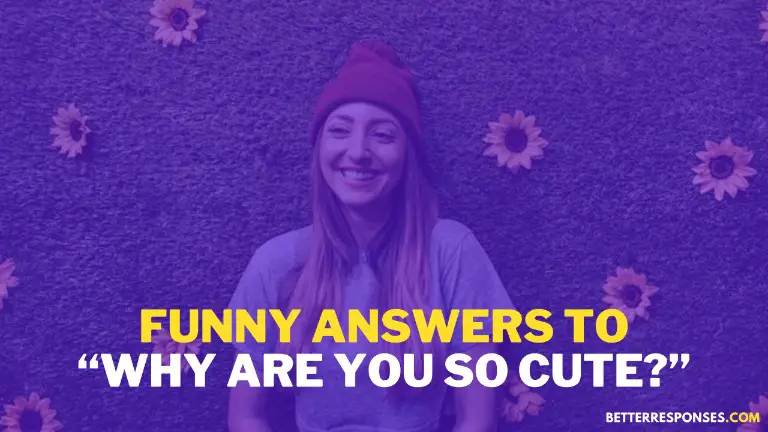 1. It takes a year of practice to achieve this level of cuteness. 
2. Everyone is cute for a reason, what's your intention in saying that? 
3. Am I cute? Why did you say that? 
4. It's my hidden talent, I don't share it with anyone. 
5. Please don't say it, I feel like you're complimenting a dog.
6. I might look cute, but right now I smell bad. 
7. Two things, First I hate the word 'cute', and second, who the hell are you?
8. Well, you have very bad taste, let me tell you. 
9. Thanks for always leaving the same comment on every post. 
10. For an answer, you've to prove that you're worthy enough to know that. 
11. I don't have anything to give you, sorry. 
12. Even I have been looking for the answer. 
13. It's a long story, I will share it of course, but for some time. 
14. Because I take a bath every day without fail. 
15. Okay, now try this on someone else. 
16. You're not the only one who is seeking this answer. 
17. I've got a recipe to be so cute, I'll share it soon. 
18. LMAO, I like your sense of humor.  
19. Sorry, I didn't mean to sound cute if you feel that way. 
20. I've no idea how to define my cuteness. 
21. Do you have a pen and paper? This list goes on.
22. Why don't you ask my boyfriend the same thing? 
23. Whatever I do, It ends up being cute anyway. 
24. Thank you, but I'm not interested. So sorry.
25. Don't try to play with me, what do you want now?
READ NEXT: Funny Responses To 'I Have A Crush On You'
When Someone Calls You "Cute"
In person, when someone says 'You're cute', you better know if it's just a nice comment or more. 
This person could be your friend, crush, or partner. 
When they call you cute, you take it as a compliment, like they mean it. 
Based on the mood and situation, you can respond your way.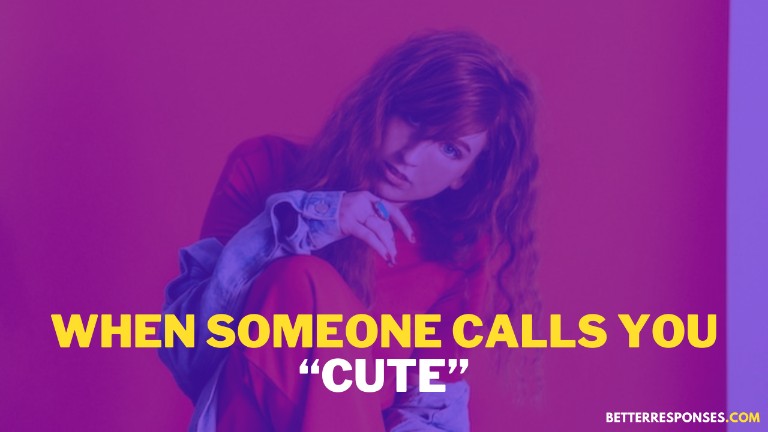 When someone asks 'Why are you so cute', this means they don't just consider you as only a cute person, but they're impressed by your nature. 
In that case, you choose to reply from funny to flirty replies like we just discussed. 
Remember, it's not a question. 
But take it as a special gesture, like they love being with you. Because you're a special person to them.
And, they appreciate who you are. 
Well, they already know the answer, but still ask it anyway. 
Next, your unexpected replies to 'cute' comments might make their day.