Last Updated on September 24, 2023 by Ketan
When a marriage proposal is genuine or a joke, you know that as it comes. 
If your friend or a guy says 'Will you marry me?' randomly, you know they are just kidding or someone dares them to say so. 
It's just a joke.
So, give them some funny and witty responses to keep the fun going. 
Whereas, if your girlfriend or boyfriend proposes to you for marriage, you must have romantic answers to accept that. 
Well, you already know when there should be "Yes" or "No" to marriage proposals. 
But, if you're looking for some exciting ways to do it, here are the best answers to share. 
We're making it for entertainment purposes; hence you will find funny, witty, sarcastic, and savage answers to handle marriage proposals. 
Be mindful of that.
Funny Responses To "Will You Marry Me?"
You know when your friend isn't serious and just teasing you with a fake marriage proposal?
So, when he jokingly says 'marry me', you can handle it as a joke. 
With some funny responses like these, you actually share some hilarious reasons to reject them.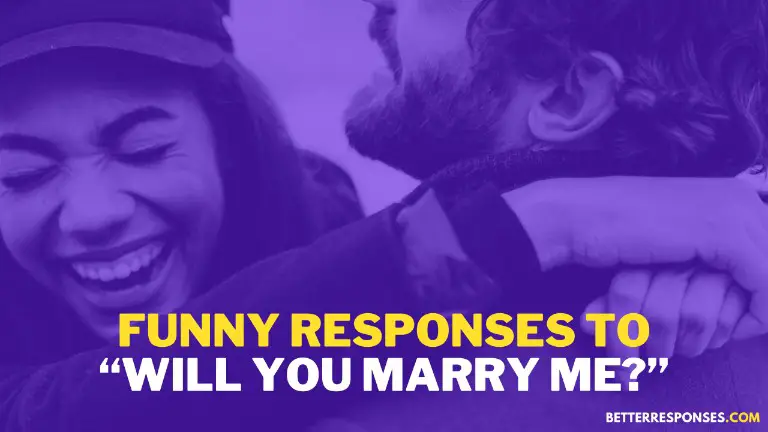 1. My answer depends on where you will bring me on our honeymoon. 
2. I'm already married to someone virtually. 
3. Are you serious? But I'm not, sorry. 
4. And what we will do when we get married? 
5. Let me ask my celebrity crush first, then I will reply. 
6. I can't tell you exactly right now. I will keep you as an option. 
7. You're not the first one to tell me that.
8. Please wait till I turn a certain age. 
9. Why don't you ask the same of my husband? He's here. 
10. For how many years? I can't do it for a lifetime.
11. What a weak joke! That I don't find it funny at all. 
12. How can you even think about that? I'm not interested. 
13. I will say yes after seeing the ring. 
14. Ok, I think you might have bought your entire family then.
15. I cannot do it alone; someone also has to do it with me. 
16. Tell me you're drunk right now. How high?
17. I guess, you're trying to say this to my twin sister, right? 
18. Do I know you, I don't think so. Do you know me, who am I? 
19. That's the best joke I ever heard from you. 
20. Well, I can't do it, so you better marry me.
21. Tell me how much money you've first. 
22. Believe me, you don't want to do this, at least with me. 
23. You're so cute while saying that. But I want to marry someone hotter. 
24. How dare you to even think about that? I'm never going to marry in life.
25. Why everyone today is telling me the same thing? 
READ NEXT: How To Respond To 'I Want To Kiss You'?
Witty Responses To "Will You Marry Me?"
There are some direct ways, and then the clever ways to reply to marriage proposals. 
If you choose to respond with such witty replies, that shows you don't consider just love, but also look at the logical side, too.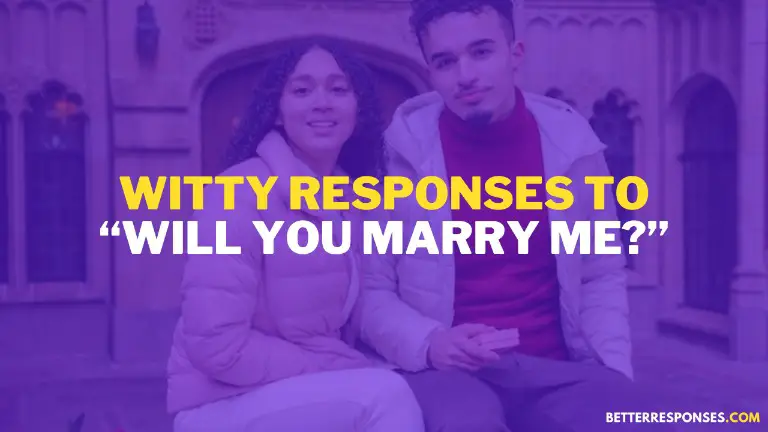 1. I will but after my first marriage. If that's don't work, I'll marry you. 
2. I like to double it and pass it to the next person. 
3. This is the offer I'm very happy to decline. 
4. What, why do you want to marry me? Just tell me two good reasons.
5. Yes if you can fix the all procedure in just four minutes max. 
6. At least not in this life. 
7. What's the matter, your girlfriend left you… again?
8. Well, you ask the wrong person. 
9. Are you dreaming? We're already married. 
10. Do you have anyone else to marry me? Then I'll marry you. 
11. I think I need you, but I don't want you forever.
12. The answer may break your heart. You know what I mean. 
13. Sorry, I do not invest in the marriage market. 
14. Only if you can fix my date with my high school crush. 
15. I will marry you, but you will marry whom? 
16. First, let me go through all the terms and conditions. 
17. How can I, I can't even be at a job for more than a year. 
18. Your choice is right, but I don't have a choice at all. 
19. Only when I left with no other option, please wait. 
20. What if there are no other people left on Earth?
21. I could, but I wish I would never. 
22. Let me ask our kids first, should we marry or not? 
23. Will you bring me to Disney Land next month? Yes? I will marry you there. 
24. Stop doing it, I know it's the first of April. 
25. I don't think let's toss, heads I will marry you. Tales, I won't. 
Sarcastic Replies To Marriage Proposals
Well, you might have standards. Everyone has them. 
But that doesn't mean you should comment on their looks or level to make fun of anyone. 
Instead, you can use sarcasm to respond to 'marry me' from someone who can't handle the direct rejection.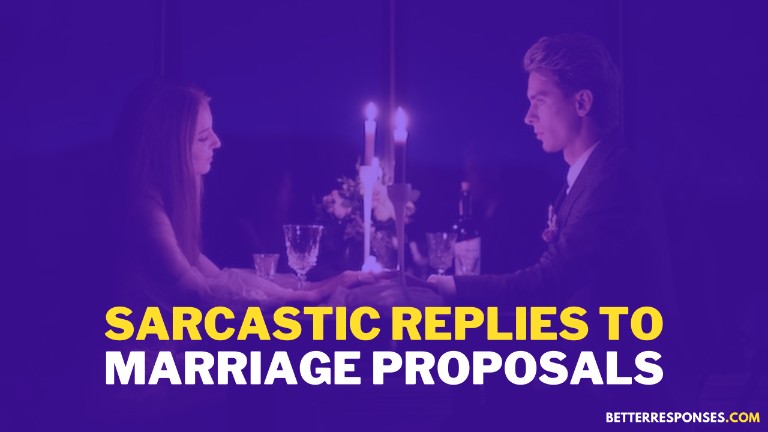 1. I can do it right now, but not after that, I'm just so busy. 
2. So you can spoil my mood every single day, am I right?
3. For that, you should have at least 1 million followers. 
4. Are you talking to me? I was on the phone with my wedding planner.
5. If you want a kiss, I can give it, the marriage isn't necessary. 
6. Tell me you're saying it as a part of the daring thing. 
7. Sorry, I didn't invite you but I was engaged last week. 
8. Who was invited here? I think no one. 
9. Marrying your friend could be the worst decision, you better know that. 
10. You're half of my age, and not only that you're taller than me, too. 
11. Let's imagine that whatever you say and what I hear doesn't happen at all. 
12. I'm giving you ten minutes to get out of my sight. 
13. If god has chosen you for me, I'm fine with that. 
14. Why, what's the problem with being alone and unmarried? 
15. Because you're too afraid to sleep alone at night, is it? 
16. I don't think we're the only two people alive.
17. I kind of like you, but I don't think we're ready for marriage. 
18. Wait, can you please pass me that hearing kit, I can't hear with it. 
19. Not in this life, but you can hope for the next. 
20. Sorry to say, but I'm too scared of you right now. 
21. Not sure why, but it makes me nervous, do you feel it?
22. Trust me, bro, you can't handle me forever. 
23. Can you see this, it's my wedding ring. 
24. I want you to get out of my life in the next seven seconds.
25. I'm just over with you and out of your life now. 
READ NEXT: Savage Comebacks To Flirty Text Messages
Romantic Answer For "Will You Marry Me?"
You've been waiting for him to propose to you for marriage. 
Of course, you're overexcited when he finally says 'marry me' to you. 
So, with these romantic ways to accept a marriage proposal, you make it a memorable experience.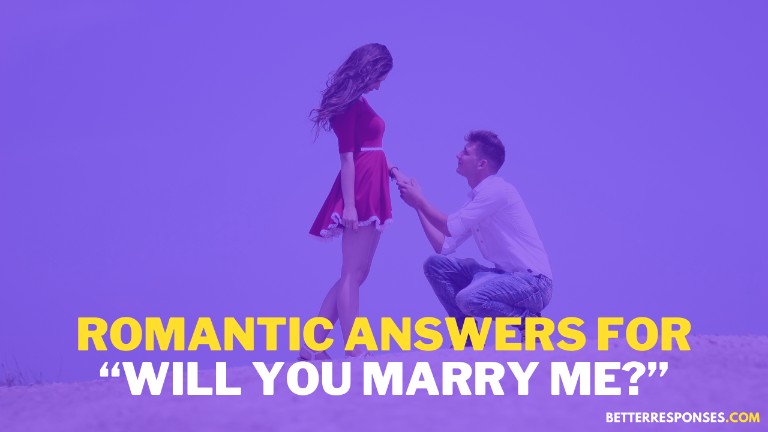 1. Not just in this life, but in every life I get. 
2. Seriously, you've to ask this. No way. 
3. Oh, I forgot we are yet to marry, right?
4. That's the best thing we can do for each other. 
5. If that will make your life better, I can do it. 
6. I don't care when and where, but it's yes. 
7. Well, I can marry you right here, right now. 
8. You already know my answer. (Yes, obviously)
9. I can do it over and over again. 
10. Babe, we are already married emotionally not legally.
11. The day I see you I decided to marry you only. 
12. Finally, the day is here and I can't make you wait anymore. 
13. Nope, I won't marry you, you will marry me. 
14. You've no idea if you didn't ask, I'm about to ask that. 
15. Do we even have any option, not at all.
16. We're perfect together as friends, and now as a couple.
17. I like to see you as my husband's role. 
18. YES, YES, YES…. there's nothing more to say. 
19. I like you, I love you and I'm ready to marry you. 
20. I'm more than happy to be part of your life. 
21. Thank you so much for giving me this special privilege. 
22. Why not, we're going to be the best couple ever. 
23. I'm asking the same to you, Will you marry me? 
24. No, I wanted to propose to you for marriage. Let me do it. 
25. Anytime, whenever you want me to. 
Savage Replies To "Marry Me"
It's not like you hate everyone, you just love yourself more than anyone else. 
Marriage is supposed to help both people equally. 
When you don't see any good thing for you, but them, make it clear why you reject their marriage proposal. 
You have to say it savagely unless this person won't accept your choice easily.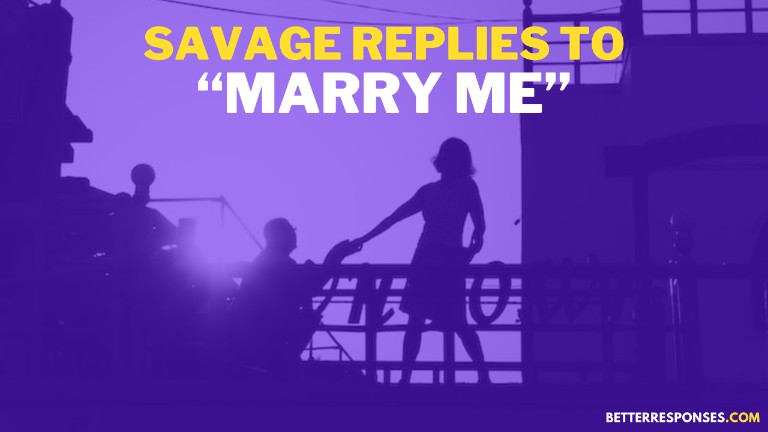 1. And how that will benefit my life? 
2. If you know what I am, you won't dare to ask that. 
3. Nope, I'm more single than with anyone. 
4. I think I should spare your life, you're a nice person. 
5. Let me tell you that I'm not going to live forever. 
6. That's not the right option, what's your other option? 
7. I think we better hire a cook to make us dinner. 
8. Marriage isn't important, it's just a waste of life. 
9. What is marriage? Why even we are doing that? No one knows.
10. I'm more prefer to marry myself and be happy forever. 
11. We both kept in suspense that you love me and I hate you.
12. Just because I'm not married doesn't mean I will marry anyone. 
13. No, not you, I'm waiting for your sister to say that to me. 
14. Will your brother do it together, he's hotter like you. 
15. Getting married is all the mysterious side of life. I don't want that.
16. It's your last chance that stays away from my territory.
17. I know how desperate you are to get married, but I'm not in the mood. 
18. So, you chose to live your best life in frustration and hatred.
19. What would you do if I will say yes or no to you? 
20. We rather remain friends for life, than live in the same house.
21. I don't think anyone or even you should marry me. 
READ NEXT: How To Respond To 'You Look Good'?
When Someone Jokingly Says "Marry me"
You better know, when that person who says 'Will you marry me?' is serious and genuinely interested in you? 
Because you already have a connection with them and be aware of their mood.
No one going to come from nowhere and just says 'Marry me'.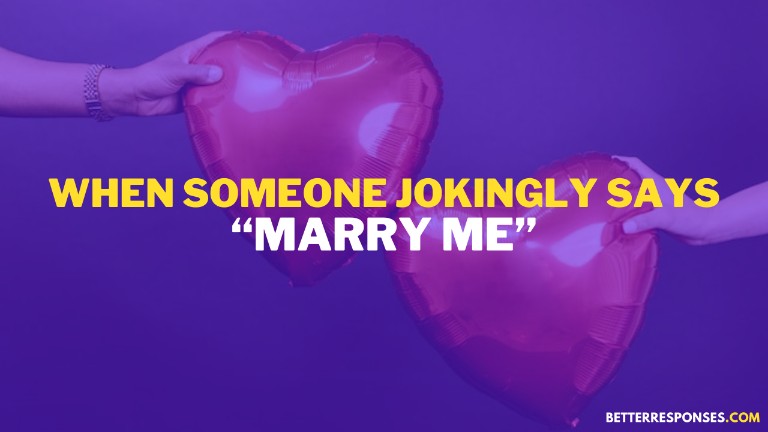 When your boyfriend or a guy proposes to you for marriage, based on your interest, choose to say yes in the most unique (here romantic) way possible. 
While, you know your friend or someone just teasing you with fake marriage proposals, handle it with these witty, sarcastic, and funny responses that we just shared. 
First, you know how serious that person is while proposing and choose to reply likewise. 
There'll be the day, when someone genuinely comes to you with a marriage proposal. 
Till then just have fun with these best answers to your crush or friend who just playing around.